After registering for courses, payment can be made right from the Course Registration (Add/Drop Classes) page. There are links on this page to:
Pay Online (Credit or Debit Card)
Sign up for an Installment Plan
Apply for Financial Aid – If you have not yet applied for financial aid, there is a link to the application process on this page.
(Image of Pay for classes options page)


Note: Each college has different due dates for tuition and fees (i.e. at some colleges fees must be paid at time of registration). Failure to adhere to the college due dates may result in being dropped from a course for non-payment. To check with the college Business Office click here to go to the Contacts page and drill down to your college and office in question.
If you are going in to pay fees or tuition after you have left the registration page, proceed as follows:
Log intomyCommNet: http://my.commnet.edu
Select the Banner Self-Service link or icon on the Home page.
If you are attending or have attended multiple colleges, select the appropriate college.
The Main Menu will display.
Select the BILLING/PAYMENT menu button.
Click on the My Account/Payment Information menu box.
A submenu will open with several payment options.(Image of Banner Self-Service Billing/Payment menu with My Account/Payment menu)

(Image of My Account/Payment Information sub-menu)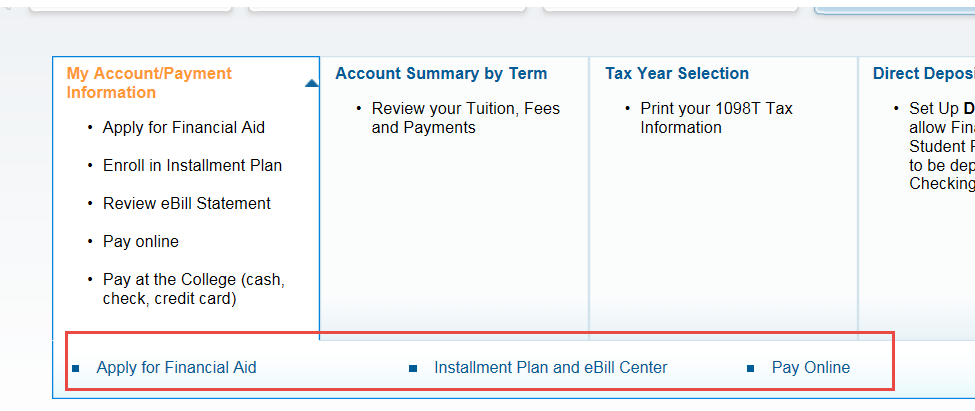 Pay Online (using Credit or Debit Card)
Payments made on your credit or debit card will show immediately on your credit card statement online.
If you are receiving Financial Aid, it will be reflected in what you owe.(Image of Account Balance page)

Sign up for Installment Plan
Each college will post the date that installment plans will be available.
To contact your college for more information, visit the Contact page and then select the link for your school.(Image of Installment Plan Management page)

Apply for Financial Aid
If you have not applied yet for financial aid, link to important information.
Pay by Check or Cash (NOT one of the options in Banner Self-Service)
With the new eBill Statement you can pay by Electronic Check.
To pay by cash you need to visit the Business Office at your college.